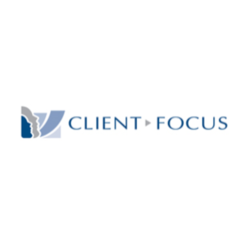 Customer Service Account Representative
Mesa, AZ
Paid personal time, Flexible schedule, Vision Insurance, Dental Insurance, Life Insurance, Health Insurance
Who is Client Focus?
Our mission at Client Focus is simple: Protect More People. Our company was founded on making sure clients livelihoods, families, and assets are protected to the highest capability. Our company has been the leader in our industry since 2001 setting over 1 Million insurance and financial review appointments for over 8,000 fortune 50 insurance agents. While also helping foster a strong relationship between the insurance agent and their client, thus driving long-term customer retention between the two.
What does Client Focus do?
Our AM's schedule high-quality review appointments for existing policyholders across the United States. Client Focus works with top Insurance Agents from companies like State Farm, Allstate, Farmers, and Farm Bureau. By doing so, you give the Agent an opportunity for customer retention, business growth and ensuring clients are properly protected in the event of a catastrophe. It's truly amazing, we can make sure people's lives and assets are protected, and help our Agents become even more successful at the same time.
What does the day-to-day look like?
Make 150-250 outbound calls to existing clients to schedule Insurance and Financial Reviews.
Manage 20-25 agent accounts, and ensure they remain on service.
Find new opportunities to increase company revenue via customer referrals.
Promptly handle any kind of customer concerns, ensuring the problem is resolved in a timely manner.
Must Haves:
Minimum two years of Customer Service.
Ability to professionally, and effectively communicate via phone and e-mail.
Able to perform in a culture of high accountability and low supervision.
Demonstrates strong time management through multi-tasking.
Our Values
Client Focus has a set of eight core values that non negotiable. We make each and every business decision based upon these things, including our hiring! Familiarize yourself with what is important to us:
Outcomes - Results matter most; merely working hard is insufficient and sometimes unnecessary.
Love - We care deeply about our coworkers, customers, and community.
Customers - We understand and deliver on our customers definition of success.
Growth - Success is when our employees, customers and our company all grow and thrive.
Change - We reward and promote people who challenge the status quo and achieve excellence.
Freedom - People are amazing. Except when you try to control them.
Stewardship - We treat our customers' business like our own.
Team - We are working together to accomplish something great.
Work - Life Balance
Work is a big part of our life, but not our entire life. We want to make sure our team is 100% taken care of in the office, and outside of the office as well. Health and happiness outside of your organization are keys to a successful business. Our employees enjoy flexibility in exchange for high performance.
What you will love about us:
Medical Insurance
Dental Insurance
Vision Insurance
Life Insurance
Paid time off for full time employees.
Occasional opportunities for overtime.
Opportunities to receive a bonus.
Weekends and holidays off.
Performance based raises and promotions.
Job Type: Full-time
Pay: $14.50 - $16.00 per hour
COVID-19 considerations:
To keep our employees as safe as possible, we are requiring temperature checks at the start of their shift followed by routine sanitizing throughout the day.
6562111